Bob Doster - Sculptor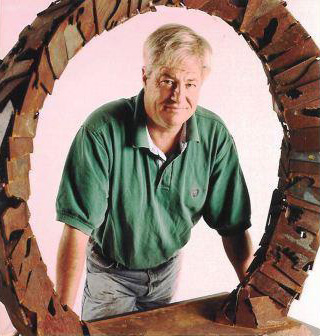 Bob Doster is an award-winning, nationally acclaimed artist who has been creating and teaching for more than fifty years. Prestigious awards include SC Governor's highest recognition in the arts: the Elizabeth O'Neill Verner Award. Doster has been named Keeper of Culture by the York Heritage & Cultural Commission, Hero of the Child by SC First Steps, Small Business of the Years by Lancaster County Chamber of Commerce, CN2 Hometown Hero and received City of Lancaster Mayoral Proclamation.
Doster has been featured in publications and broadcasts including Southern Living Magazine, Carolina Arts, Sandlapper, SCETV, Arts Hub, National Welders Magazine, and a myriad of newspapers and travel magazines. Works by Doster can be found in museums, galleries, public art, corporate and private collections worldwide.
In addition, you can visit almost every school in SC (and many beyond SC) to find works created by students during artist residencies with Doster.
Doster's works are prominent in local, regional, and national competitions including:
University of North Georgia Sculpture Exhibition
Jackson County, NC Green Energy Park Sculpture Competition
City of North Charleston, SC National Outdoor Sculpture Exhibition
Lake City, SC ArtFields
City of Burlington, NC Willow Walk
City of Cornelius, NC Beyond Walls
City of Anderson, SC Public Art Competition
Boone, NC Downtown Development Sculpture Competition
Oconee, GA Cultural Arts Foundation Southwards
Caldwell County, NC Arts Council National Outdoor Sculpture Competition
City of Cary, NC Sculpture in the Landscape
Clemson University, SC Art in the Garden
USC Upstate Annual Sculpture Exhibition
Beaumont, TX Art League National Competition
Martinsburg, WV Berkley Arts Council Art & Earth Competition
North Charleston, SC PalmettoHands Traveling Exhibition
Maria V. Howard Arts Center National Juried Art Show in Rocky Mount, NC
City of Fayetteville, NC Sculpture Exhibition
City of Cary, NC Visual Art Outdoor Sculpture Exhibition
SC State Museum of Art Collection
I.P. Stanback Museum & Planetarium of SC State University
Visual Art Exchange, Raleigh NC
Contemporary South, Pitt County NC Art Council
SCHWA National Competition, Rocky Mount, NC
Rocky Mount Imperial Center for Arts & Sciences

Arts In Education
Bob Doster has been working with students of all ages for more than forty years and is on the roster of SC Arts Commission Arts in Education Artists. In-school and on-site residencies are available in clay & metal, field trips to working studio and artist gallery, presentation are available. Contact Bob for more information. More information regarding residencies can be found on South Carolina Arts Commission website. We can also help you with ideas for funding your students project, from summer camps and after school programs to week-long residencies with students of all ages.
Click for student designs created through residencies, public art projects, and community collaborations.
Where To See Bob Doster's Work
Broadhurst Gallery, Pinehurst NC
Sandpiper Gallery - Edisto Beach, SC
Edward Dare Gallery - Charleston, SC
Black Mountain Ironworks - Black Mountain, NC
Pinckney Simons Gallery - Hilton Head Island, SC & Beaufort, SC
Michael McDunn Studio - Greenville, SC
Artisans Center of South Carolina - Walterboro, SC
City Art - Columbia, SC
Leroy Springs Company Recreation Department - Fort Mill, SC
Edward Jones Investments - Fort Mill, SC
York County Museum - Rock Hill, SC
Brattonsville Gift Shop - York, SC
Arts Council of York County - Rock Hill, SC
Char-Lin's Shed - Marian, SC
Arts Council of Chester County - Chester, SC
Lancaster County Council of the Arts - Lancaster, SC
Cheraw Visitors Center - Cheraw, SC
Blue Heron Gallery - Sunset Beach, NC
Rhett House - Beaufort, SC
Winonas Flowers & Gifts - Lancaster, SC
Aiken Center for the Art - Aiken, SC
Annette's Hallmark - Lancaster, SC
Daniel Stowe Botanical Gardens - Belmont, NC
Historic White Home - Rock Hill, SC
Olde English District Visitor Center & Artists Market - Richburg, SC
Chesterfield Arts Council - Cheraw, SC
Consignments@Elginwood Farms - Elgin, SC
Lone Home Crafts - Columbia, SC
Bob Doster In The Media